I've just finished watching the download. It's night and day difference compared to the youtube reel. So many birds! I didn't even realise there were aliasing issues before!
On that note: wet road aliasing. It's interesting that dry roads don't flicker in the distance, but wet roads do. Perhaps they forgot to implement
mipmap filtering
on that layer?
Anyway, onto more serious notes.
Video hosting and backups
Quote:
I'm learning for the new website, I won't be able to host the files anymore, so I'm scrambling to find a backup for that. It could be Mega wasn't a good choice, let me know where and I can upload it somewhere else.
Services like Mega are brilliant short-term hosting for large amounts of data. But they're useless beyond that. I don't know what their business model is, and I don't know of any good alternatives, but in my experience all free file-hosting sites are transient.
I used to upload mods I made to such file hosting sites. Everyone did. This was a big mistake. My mods are gone forever. As are the modding histories of entire communities.
Have you ever visited a site that indexes mods and then tried to download one, only to find that it takes to you an external host that's now gone? Or that now demands money for an account?
Attachment:

centralserver.jpeg [ 13.14 KiB | Viewed 1388 times ]
You have a few options, all in various shades of grey:
(1) Make torrents and trust the community to keep the videos alive.
Whilst this might work and it's almost free, it's not a very accessible option for you or the users. Not many people will go through this just to watch one of your videos, and each video you release would require an individual torrent as you can't edit existing torrents to include new data. Messy and only for the 1% of viewers.
It might be worth doing this anyway (or encouraging someone to do this for you) just as a backup plan.
(2) Host them yourself.
At the end of the day: you are the only person you can trust to maintain motivation to keep them hosted.
(3) Hybrid HTTP + torrent website
Throw your hat into the experimental arena with something like peertube, which is a hybrid of options (1) and (2).
Here's the Blender Foundation's instance
which they setup after Youtube removed all of their videos because they
didn't agree to enable advertising on them.
No idea how well this works in practice. Peertube is a trendy javascript-framework based thing that's sure to break in less than two years, so it's probably worth waiting for something more reliable to come out.
Quote:
I won't be able to host the files anymore
This is a bit concerning. I'm not privvy to your plans and who you have organised them with, but what's going on here? New host too distant to move the collection to? Happy to chat via PM, email or voice if you want a sounding board, whilst I don't sell any hosting services myself I might at least be able to listen and perhaps give a different perspective.
Stutter
You mention stutter issues in the video. I could not see any evidence of this in the video segment you use as an example, but with this higher quality copy I'm noticing it everywhere.
Shortlist of mm:ss codes:
8:14 Car rotation during cutscene. Could just be pre-animated and not lerped.
14:19 Bus judder
22:35 Rushmore judder
23:53 Camera rotation judder at "Cloud Gate"
The bus judder is a good example. I dumped all the frames and tracked a single spot (rear mini-blinker) on the bus as it traveled across the screen:
Attachment: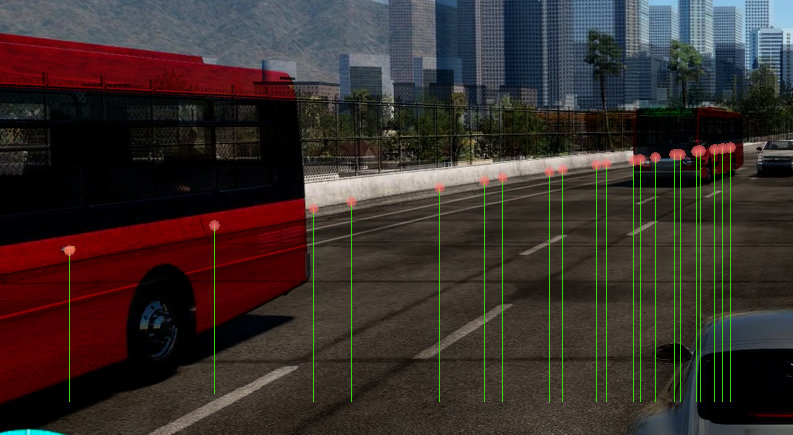 stutter_bus.jpeg [ 89.83 KiB | Viewed 1388 times ]
Those spacings should not be so uneven.
Several possible causes I can think of:
Frame skipping. This explains the 1/3 then 2/3 spacings above. Could be caused either by the game, graphics drivers or the video capture process itself.
Asynchronous (threaded) or similar code (scheduled jobs in one thread) that's providing uneven lock delays or job loads each frame, so each frame legitimately takes a different amount of time to complete. Requires time optimising the code to fix.
Bad timer resolution. Many lazy devs (*looks sideways*) use millisecond time sources because they're easier to get and don't always overflow as often as the higher-res sources. On its own it's impossible to notice 1ms jitter, but if you code things badly a few dozen or more of these errors can pile up each frame.
"The age old tradition of fixing software problems by throwing more hardware at them" can actually make this last problem worse.